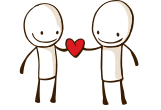 We forward
100% of donations to
the projects.
Our projects
break free of
aid dependency.

Loving and effective support for aid projects
FAQ
Why do you do it?
There's so much suffering in the world. That has to stop.
How is it possible that 100% of my donation gets to the projects?
Because we retain nothing from your donation, absolutely nothing. We pay our administration costs privately and even the transaction fees are covered by us. You are welcome to view our accounting data—of course in accordance with the data privacy law.
And why do you do it that way?
Each donor is a human being with their own values and morality. If a part of the donation is used for administrative costs, as it is often the case, one person might think that the office of Your Siblings furnished much too luxuriously, while someone else might think that the organization is not paying its employees enough (assuming we had either). Thus, an aid organization could never please everyone. But if the organization is in no way dependent on the donations and doesn't keep a cent of that money, the donors don't have to read through a swath of documents to investigate whether their donation was handled properly. They just know it. 100% of their good intentions reach fruition.
How well does Your Siblings know the projects and the project managers?
The projects were all personally visited, some several times even. We are in constant contact via email and telephone. Each project can be visited at any time.
How does Your Siblings ascertain that the donations are used exactly the way they are supposed to?
First of all, we know the organizers of the projects well enough that we think we can trust them, but we also split the needs of each project into batches without circular dependencies of needs between them. We then only transfer the first batch and wait for substantial evidence that the donations were invested exactly according to the needs. Slight differences due to price changes are covered by a security margin. Only when we are convinced that everything has been put to precisely the intended use, we transfer the second batch.
A small example to illustrate it: A clinic is to be built. First, land has to be bought. We have to raise the complete amount of money for it, for you can't build a clinic on just half its area. Once the money is transferred, the project has to keep a certain deadline by which the project manager has to have sent in evidence. In this case, evidence would be the purchase contract as well as videos and pictures. If the evidence is clear and adequate, we can render the payment for the next batch of needs. As long as there is no evidence, there's no further payment. Also, our criteria include that every project can be visited at any time.
Which criteria does every project have to meet?
Sustainability: Each project has to be set up in such a way that its first objective is financial self-sufficiency. Each project has to have developed a plan that shows that after the one-time support through Your Siblings, the project can finance itself.
Transparency: Each project has agreed to be open for visitors at any time. Everyone is welcome to inspect the project on site (but of course always in a way that doesn't require extra efforts from the project). Furthermore, the project is required to keep a Your Siblings file containing the accounting data of the projects funded by Your Siblings.
Nonprofit and nongovernmental: We only support nonprofit projects and only NGOs.
Local roots: We only support projects that were founded by locals and are at any time managed by locals.
Need and urgency: Your Siblings only supports projects in developing countries. Goal of the project has to be the support, security, or rescue of people in need—such as diseased, poor, or suppressed people or children. The main beneficiaries of the project have to be thus disadvantaged.
My project meets these criteria. Can I submit my proposal to you?
Please note that donations are trickling in slowly on our side. If we have an active project listed, as we typically do, it is likely that we won't be able to accommodate another one for over a year. Then we also need to schedule a visit to your project. Hence, please also apply for the assistance of other fund-raising organizations to get more timely support. Furthermore, if your project requires more than €10,000, we would quite generally encourage you to find an organization with greater influx in donations.
Why should I donate to an organization like AMF through you rather than to AMF directly?
We are using AMF's fund-raising system for accepting donations for them, so you are in every case donating directly to AMF. When you click the donate button, you will be conducted to the AMF website as evidenced by the green address bar of your browser showing AMF's name. Using our website for it has the advantage that we can quantify the success of our fund-raising, which is very important to us.
To the top