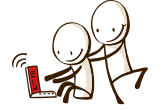 We forward
100% of donations to
the projects.
Our projects
break free of
aid dependency.

Loving and effective support for aid projects
About us
Your Siblings is a fund-raising organization to support charities that provide highly effective aid to those most vulnerable and in need, and offer individuals around the world the opportunity to make a difference.
We support two types of projects, (1) projects that we personally evaluated and that we found to live up to our requirements, and (2) projects that GiveWell evaluated and found to be outstanding giving opportunities.
Our own requirements on charities are that they are local to their country, nongovernmental, and nonprofit. To ensure that the charities also live up to our standards of transparency and urgency, we visit them and get to know the managers personally.
Charities that pass these tests can then present a proposal that shows how they can realize a very clearly defined project with a list of defined needs. Each of these needs is concrete enough that the charity can assign a price to it that is likely to remain relatively stable over the period of our fundraising. Any variability is covered by an individual contingency margin of about 10–20% per need. The proposal also has to show that the project will be sustainable, that is, valuable to the charity in the long term without incurring them any costs that could offset its profits. That way, the funding target of each project is clearly defined, and once it is reached, each one-time donation by each donor will increase in value with every year that the project is in operation.
In short, projects have to be:
aligned to serve urgent needs in the region,
run by a nongovernmental NPO,
managed by people who permanently live in the respective country,
fundable with a clearly defined, finite budget, and
self-sustainable after the initial funding.
GiveWell's process for the evaluation of interventions and charities differs from ours and is described in detail on their site.
Whether a project was vetted by us, according to the above criteria, or by GiveWell is indicated by a seal on the project page. The decision which projects to support is of course still ours in each case; the seals indicate which organization conducted the research that led to our decision and thus which set of criteria or values form its foundation.
On this website, we maintain detailed expositions of each of the projects we support, including pictures and videos. There, donors can make donations for specific needs or leave it to our system to allocate the donation. We will forward all these donations in full. Donors can also contact the managers of the projects directly, for example, if they want to visit the project or offer their help as volunteer.
To the top