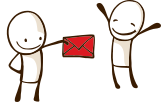 We forward
100% of donations to
the projects.
Our projects
break free of
aid dependency.

Loving and effective support for aid projects
Contact
We invite you to
contact us by email: contact at yoursiblings dot org,
send us a tweet: @YourSiblings,
join our Facebook group
and meet us at any of our events.
See also our imprint.
We look forward to hearing from you.
To the top