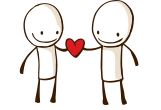 We forward
100% of donations to
the projects.
Our projects
break free of
aid dependency.

Loving and effective support for aid projects
Become sponsor
We forward 100% of all donations, so the money for transaction fees, flights, etc. has to come from other sources. So far we have been paying most of it from our personal savings, but that is not how Your Siblings is meant to operate in the long term, as it greatly limits our capabilities.
This is where sponsors come into the picture: We want to meet those expenses through partnerships with select companies.
If you run a business that you think lives up to our high ethical standards, then please contact us, so we can discuss our various partnership opportunities.
Thank you!
To the top