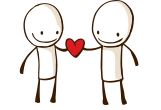 We forward
100% of donations to
the projects.
Our projects
break free of
aid dependency.

Loving and effective support for aid projects
Seeds of Kindness: Building Bridges
The album. Building Bridges is the culmination of months of work from talented musicians dedicated to making the world a better place – but now it's up to you.
Just donate below (you'll be taken to the website of our partner, the Against Malaria Foundation), confirm that you've donated, and you'll be able to download Building Bridges and our eight previous albums!
The charity. "I wasn't just sick, with fever and a headache, I felt detached from myself. … I was gasping for air. I couldn't breathe. I was dying." This is how Ann Paisley Chandler describes her malaria attack. She survived but many others are less lucky. We have the power to save many of them!
Our last fundraiser has received donations that will save more than twenty lives. Let's break our own record together!
For further information, please read our profile of the Against Malaria Foundation and watch the TED talk by Peter Singer and TEDx talk by Toby Ord, explaining effective altruism.
USD 14962 in 199 donations
Your Donation Through AMF
Ranking
Greg "Gerf" Strnad

USD 2200

Kippei

USD 1100

Brok Enwings

USD 500

SR Foxley

USD 500

Zackbeard

USD 500

Steyr Stammtisch

USD 430

Latent Logic

USD 300

DeltaSierra

USD 200

Clover Hooves

USD 150

Péter

USD 146
Projects
To the top