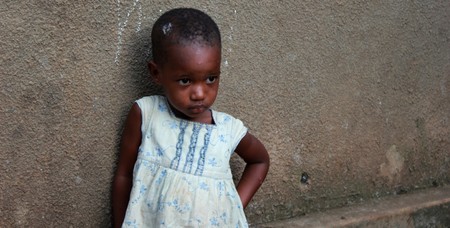 No one knows how old exactly Aisha is, but she was about two or three years old when she was brought to Another Hope by a local police officer. Aisha's parents separated in April 2011. The father left the family, taking Aisha's older sibling with him to an unknown destination, so she stayed behind with only her mother Mbabazi. After a few days Mbabazi took Aisha to her neighbor Margaret, who makes her living by attending to children during the day while their parents are at work. That morning was the last time Aisha saw her mother. She never came back.

Parents in trouble deserting their children are a common occurrence not only in Uganda. Often hopeless, they leave their kids with friends, neighbors or sometimes even strangers. They make them believe they'll be back soon, but then pack up their belongings and leave their whole life behind to start over somewhere else. All too often the police even finds toddlers dumped in gullies or on the garbage dump.

Efforts to trace for Aisha's father or her relatives have failed since nobody knows any of them or the exact former place of residence of the family. She now lives with 27 other lovely children at Another Hope and will hopefully start to go to school this summer.

Support Aisha and Another Hope by donating for our current project. Please help us to raise the funds for a guest house to ensure a long-term income for the orphanage that all the kids there will benefit from.