Do you still have some of the cocktails, coffee, and Kleenex left? Because it's party time again! In the first days of this month, the Seeds of Kindness 3 fundraiser successfully funded its second project, and now, on the last day of September, we have a new milestone to announce!
The Green Village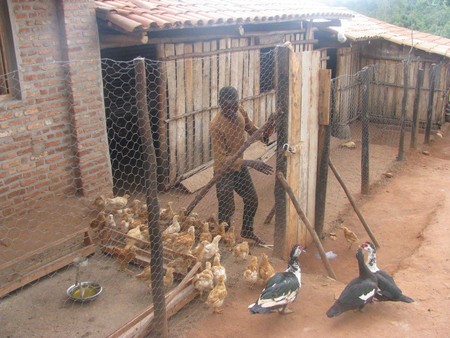 Do you like—wait for it—potatoes? Potatoes are pretty rad! (Pun intended.) We all know that Jayson Thiessen has the ability to morph into a flying potato with hat at will, but potatoes also display high levels of awesomeness based on their nutritious value. That is why Green Life has chosen to grow potatoes, along with tomatoes, onions, and other fruit and vegetables, as food for the street children in their care. Another reason is that this kind of produce yields high returns on the local market, so that they can pay all the various running costs of the children's health care and education.
So far they had to run this agricultural project on a rather small scale, but thanks to your donations they'll now be able to purchase a bigger field, seeds, and equipment!
The next stage for the Green Village project will be to break into the dairy business. They want to build a stable and buy a cow, again with the same priorities, to first satisfy the immediate needs of the children and then to sell the surplus to fund the running costs of their medical care and education. What is true for the project itself, that it is designed to be self-sufficient and independent, also needs to be true for the children once they grow up: Green Life prepares them for a new, self-determined future.
In total, the project still requires a little over €16,000. You know what to do!
sok.yoursiblings.org
Ponychan /good/ Rules
Of course it does! But what the mods are looking to establish are rules as a plural noun. For that, they need the input of the community, be it just an informed, appreciative nod.
The /good/ thread can be found here.
By the way, the grapevine has it that Your Siblings is about to release some happy news from two of our past projects. More about that soon!
About Bronies for Good
Bronies for Good, first and foremost, is you. We are the facilitators who organize service events worldwide and encourage individual, group, and social involvement to fostering the growth of a global community of caring, socially conscious individuals: you. (You can also follow Bronies for Good on Twitter and Facebook.)
About Your Siblings
Your Siblings is a nonprofit charity organization registered in Germany that provides 100% effective monetary aid to select Third World projects that representatives of Your Siblings have personally visited and assessed. The projects need to be themselves nonprofit, nongovernmental, run by locals of the respective country, and geared towards providing the most essential means and services to those most severely disadvantaged in society, all to ensure that the donations will have the greatest and most permanent impact. (You can also follow Your Siblings on Twitter and Facebook.)
Post syndicated from Bronies for Good.