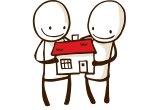 We forward
100% of donations to
the projects.
Our projects
break free of
aid dependency.

Loving and effective support for aid projects
909 Buziga Road, Konge Parish, Makindye Division, Kampala, Uganda
Nov. 5, 2014

Charity Chitchat 2: Donation Matching With Nicole Oliver and Ingrid Nilson November 15 at 5:30 p.m. EST (10:30 p.m. UTC) on events.yoursiblings.org with Nicole Oliver, Ingrid Nilson, and donation matching! The clinic project. Maud Pie would be proud: We've reached a new milestone! You, our generous donors, have fully funded...

Oct. 20, 2014

Great news: Child Need Africa has bought the house we fund-raised for and they were even able to buy it for the same price that they negotiated in January. As a result, they can use the contingency margin that we provisioned for price increases to already start the renovations. The...

Contact Person

Mawanda Johnbosco
mjmawanda at gmail dot com
To the top