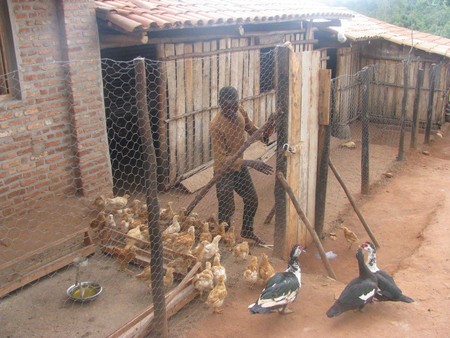 Today, we are launching our second project for Green Life, the Burundian nonprofit, founded in 1997, that we have been cooperating with since 2010. In the course of our first project with them, Green Life has built a little village in Gitega to look after street children in the region, supply them with food, clothes, medical care, a place to sleep, and very practical education.
The new project will pick up where the previous one left off. First, the agricultural programs that have already been started will be extended. Green Life will buy a new plot of land and build a stable, so that they can provide the children with vegetables, eggs, and dairy products. Surpluses will always be sold to cover medicals bills, school fees, and other running expenses for the children.
Then, the agriculture also requires much water, so they will build a rainwater tank to reduce the costs. While this water is not clean enough for human consumption, it will ensure that they vegetable plants can thrive even when the weather is unfavorable.
Finally, Green Life wants to harness solar energy. The agriculture program will benefit from electricity, their schooling will be less dependent on natural lighting, and it will also further their other educational programs, such as welding, music, and pottery.
This is the third of our projects that will be part of this year's Seeds of Kindess 3 fundraiser by Bronies for Good. Keep tuned to this blog, @YourSiblings, and @BroniesForGood for updates.