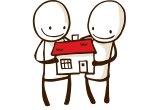 We forward
100% of donations to
the projects.
Our projects
break free of
aid dependency.

Loving and effective support for aid projects
Sept. 1, 2014

From 2010 to 2013, we've been supporting the Another Hope orphanage, and when our currently running fund-raisers have completed, we'll consider helping them extend their programs further. So far we've supported them with a new building so that their rent budget can directly benefit the children instead, and with a...

Oct. 11, 2013

This has been another successful year, especially for the projects. Another Hope has moved into their new orphanage building, Child Need Africa's clinic is running and they are treating patients, and Green Life has been able to accepted more children into their care while reuniting others with their families! The...

Sept. 1, 2013

Post syndicated from Bronies for Good. Today, we have three items for your perusal: A party: Seeds of Kindness 3 has funded the second project. A question: We want to make a slight adjustment to a Seeds of Kindness 2 beneficiary—but only with your support. A forum: We want you...

Aug. 24, 2013

We have entered into a new era, the era which—with your help—will furnish the Another Hope orphanage in Uganda with a secure budget for medicine and school fees, and allow the Green Village project for street children in Burundi to expand and endow more children in destitute with new, brighter...

Aug. 22, 2013

Post syndicated from Bronies for Good. The Release Party The year 2011 saw the Smile! fundraiser, and 2012 was packed with two Seeds of Kindness fundraisers. Even those of you weren't at BronyCon or GalaCon to get the inside scoop will have guessed what this means for 2013: Our Seeds...

Aug. 7, 2013

GalaCon 2012 already went a long way in funding the Safe Project orphanage. Since then, they have further supported us with our Kallisti fundraiser cooperations, and now GalaCon 2013 has put the capstone on the orphanage: The project "Safe Project: Necessary Augmentations" is fully funded, thanks to the convention! On...

July 27, 2013

Seeds of Kindness 3: A Veritable Palette of Convention Charity Programming In case you've found yourself lost in some delicious yet confusing muffin paradox, Seeds of Kindness 3, the third incarnation of our Seeds of Kindness project series, is on the verge of launching. As part of this final buildup,...

July 18, 2013

Post syndicated from Bronies for Good. This year's BronyCon and GalaCon are only weeks away, and so is this year's Seeds of Kindness fundraiser and the release of the associated charity album! Today we are announcing the final charity lineup for the launch of Seeds of Kindness 3. The Three...

May 6, 2013

In June 2011, Namutebi, a young woman living in Nansana, a dilapidated suburb of Kampala, suspected that there was an abandoned child in the house next door. She reported her concerns to the local council and the police. They initiated an investigation, but nobody was able to get a hold of...

April 25, 2013

In late 2012, the second Seeds of Kindness fundraiser finished what the first had begun: The last of our projects, four at the time, was fully financed. All the while we had been transferring the donations batch by batch to the projects, so that they could already start the construction...

April 22, 2013

No one knows how old exactly Aisha is, but she was about two or three years old when she was brought to Another Hope by a local police officer. Aisha's parents separated in April 2011. The father left the family, taking Aisha's older sibling with him to an unknown destination,...

April 14, 2013

Charles was born on the 21st of May 2010 in Kyoga village in Uganda. Charles's parents were cohabiting and had four children, Ritah, Olivia, Yvonne, and Charles. Unfortunately the siblings are now separated. Their father is a casual laborer who survives on daily income raised from loading sand on trucks....

March 24, 2013

...

Jan. 25, 2013

...

Jan. 10, 2013

Bronies for Good press release on EWB, the Safe Project, a charity album, and the 1 euro campaign.

Dec. 22, 2012

A guest house is expected to be more viable than the chicken farm

May 3, 2011

Every bit counts!

Contact Person

Ruth Nambowa
admin at anotherhope dot org
To the top