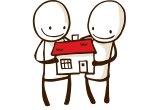 We forward
100% of donations to
the projects.
Our projects
break free of
aid dependency.

Loving and effective support for aid projects
Sept. 18, 2014

Green Life is a Burundian organization that was established in 1997 to look after children who had to escape from their homes or lost their families entirely. These children usually live in small tight-knit groups on the streets of the larger cities where they have to beg or commit petty...

July 26, 2014

As you might already know, we are currently prioritizing fund-raising for Child Need Africa's medical clinic in Uganda, since that project urgently requires a permanent support project to generate the income that will be necessary for the clinic to afford medicine and qualified staff in the long run. Once the...

Jan. 22, 2014

A few rather bureaucratic events have reached fruition throughout the past months. I'll summarize them here, but unfortunately the documents themselves are all in German. The tax office has renewed our status as registered charity. This renewed notice is valid through 2017. We've held our annual general meeting, which again...

Dec. 19, 2013

The double premiere of the year is here: All throughout 2013 and longer, Bronystate and Brony Radio have each collaborated with many talented artists, singers, and voice actors on their respective projects, the radio plays Dash of Christmas and A Christmas Carol! Both will premiere in parallel on Sunday, December...

Nov. 8, 2013

Gaming for Good: A Brony Gaming Livestream Fundraiser 1. Gaming for Good What do you get when you assemble an eight-hour palette of exciting and potentially rage-inducing video games, prize giveaways, and a fluffy altruistic cause? A splendiferous, pony-infused, video game–themed fundraising event of course! Bronies for Good, in tandem...

Oct. 11, 2013

This has been another successful year, especially for the projects. Another Hope has moved into their new orphanage building, Child Need Africa's clinic is running and they are treating patients, and Green Life has been able to accepted more children into their care while reuniting others with their families! The...

Sept. 29, 2013

Do you still have some of the cocktails, coffee, and Kleenex left? Because it's party time again! In the first days of this month, the Seeds of Kindness 3 fundraiser successfully funded its second project, and now, on the last day of September, we have a new milestone to announce!...

Sept. 1, 2013

Post syndicated from Bronies for Good. Today, we have three items for your perusal: A party: Seeds of Kindness 3 has funded the second project. A question: We want to make a slight adjustment to a Seeds of Kindness 2 beneficiary—but only with your support. A forum: We want you...

Aug. 24, 2013

We have entered into a new era, the era which—with your help—will furnish the Another Hope orphanage in Uganda with a secure budget for medicine and school fees, and allow the Green Village project for street children in Burundi to expand and endow more children in destitute with new, brighter...

Aug. 22, 2013

Post syndicated from Bronies for Good. The Release Party The year 2011 saw the Smile! fundraiser, and 2012 was packed with two Seeds of Kindness fundraisers. Even those of you weren't at BronyCon or GalaCon to get the inside scoop will have guessed what this means for 2013: Our Seeds...

July 27, 2013

Seeds of Kindness 3: A Veritable Palette of Convention Charity Programming In case you've found yourself lost in some delicious yet confusing muffin paradox, Seeds of Kindness 3, the third incarnation of our Seeds of Kindness project series, is on the verge of launching. As part of this final buildup,...

July 18, 2013

Post syndicated from Bronies for Good. This year's BronyCon and GalaCon are only weeks away, and so is this year's Seeds of Kindness fundraiser and the release of the associated charity album! Today we are announcing the final charity lineup for the launch of Seeds of Kindness 3. The Three...

July 5, 2013

Today, we are launching our second project for Green Life, the Burundian nonprofit, founded in 1997, that we have been cooperating with since 2010. In the course of our first project with them, Green Life has built a little village in Gitega to look after street children in the region,...

Contact Person

John Barutwanayo
barujohn at yahoo dot fr
To the top