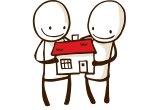 We forward
100% of donations to
the projects.
Our projects
break free of
aid dependency.

Loving and effective support for aid projects
Katerera, Rubirizi District, Uganda, Africa
Aug. 21, 2014

At this point, the problems that Green Life faces seem rather minor to us. Since November of last year, seven former members of the Burundian organization have voiced their complaints over a form of nontransparency that they saw in the decision-making of their own organization. A preliminary legal hearing found...

Aug. 18, 2014

We have great news from our clinic project in Uganda. The financial difficulties that we reported on in February are past and they are now operating fully sustainably. Now the clinic needs to build upon this foundation to expand its operations. You can skip the background section if you have...

Feb. 11, 2014

Whatcha doin'? Maybe rewatching "Pinkie Apple Pie" or "Pinkie Pride"? Good choice! If you have any questions for the authors of these episodes—Natasha Levinger and Amy Keating Rogers—then tune in February 22 at 4 p.m. EST (9 p.m. UTC) on events.yoursiblings.org! Charity Chitchat is an interview livestream that we've put...

Feb. 9, 2014

The Clinic When Your Siblings was founded on September 26, 2010, our founder, Lisa Wiese, had already established our cooperation with the Ugandan nonprofit organization Child Need Africa. We would raise the money for a medical facility right where it was needed most, at the center of a greatly disadvantaged...

Oct. 11, 2013

This has been another successful year, especially for the projects. Another Hope has moved into their new orphanage building, Child Need Africa's clinic is running and they are treating patients, and Green Life has been able to accepted more children into their care while reuniting others with their families! The...

June 2, 2013

Post syndicated from Bronies for Good. Are you a musician? Then we have one important appeal to make before we jump into the reports: We are already collaborating with a number of the greats of the fandom, but we know that there are more of you out there. If it...

April 25, 2013

In late 2012, the second Seeds of Kindness fundraiser finished what the first had begun: The last of our projects, four at the time, was fully financed. All the while we had been transferring the donations batch by batch to the projects, so that they could already start the construction...

Jan. 25, 2013

...

May 12, 2012

After more than one and a half years, the clinic in Uganda is now fully funded.

May 4, 2012

Donate to the Seeds of Kindness fundraiser to get an exclusive album and great prizes!

April 4, 2012

Our 31st newsletter

March 5, 2012

Our 30th newsletter

Jan. 31, 2012

Lisa's 2012 report from Africa

Jan. 26, 2012

Our 29th newsletter

Jan. 25, 2012

The building is done; now help us get the clinic rolling!

Nov. 30, 2011

Please contribute to our Christmas campaign!

Oct. 19, 2011

More pictures documenting the fast progress of our clinic in Uganda

Sept. 17, 2011

Our Christmas campaign—last year and this year

July 9, 2011

We love your junk goods – give it to us!

Contact Person

Mawanda Johnbosco
mjmawanda at gmail dot com
To the top