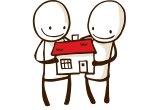 We forward
100% of donations to
the projects.
Our projects
break free of
aid dependency.

Loving and effective support for aid projects
Sept. 18, 2014

Green Life is a Burundian organization that was established in 1997 to look after children who had to escape from their homes or lost their families entirely. These children usually live in small tight-knit groups on the streets of the larger cities where they have to beg or commit petty...

Oct. 11, 2013

This has been another successful year, especially for the projects. Another Hope has moved into their new orphanage building, Child Need Africa's clinic is running and they are treating patients, and Green Life has been able to accepted more children into their care while reuniting others with their families! The...

Sept. 29, 2013

Do you still have some of the cocktails, coffee, and Kleenex left? Because it's party time again! In the first days of this month, the Seeds of Kindness 3 fundraiser successfully funded its second project, and now, on the last day of September, we have a new milestone to announce!...

July 5, 2013

Today, we are launching our second project for Green Life, the Burundian nonprofit, founded in 1997, that we have been cooperating with since 2010. In the course of our first project with them, Green Life has built a little village in Gitega to look after street children in the region,...

June 2, 2013

Post syndicated from Bronies for Good. Are you a musician? Then we have one important appeal to make before we jump into the reports: We are already collaborating with a number of the greats of the fandom, but we know that there are more of you out there. If it...

April 25, 2013

In late 2012, the second Seeds of Kindness fundraiser finished what the first had begun: The last of our projects, four at the time, was fully financed. All the while we had been transferring the donations batch by batch to the projects, so that they could already start the construction...

Jan. 25, 2013

...

June 21, 2012

Thanks to Seeds of Kindness, our projects in Burundi and Tanzania are now fully funded.

May 12, 2012

After more than one and a half years, the clinic in Uganda is now fully funded.

May 4, 2012

Donate to the Seeds of Kindness fundraiser to get an exclusive album and great prizes!

April 4, 2012

Our 31st newsletter

March 5, 2012

Our 30th newsletter

Jan. 31, 2012

Lisa's 2012 report from Africa

Jan. 30, 2012

The land for the Green Village has been bought.

Jan. 26, 2012

Our 29th newsletter

Nov. 30, 2011

Please contribute to our Christmas campaign!

Contact Person

John Barutwanayo
barujohn at yahoo dot fr
To the top